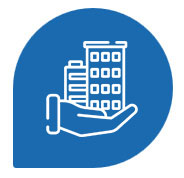 Consulting and assistance in real estate sale-purchase negotiations
The key to a successful real estate transaction is, above all, an excellent investigation of the real asset legal status. Vlănțoiu and Associates provides relevant consultancy, completed by complex due diligence reports on the real estate property, as well as assistance during real estate sales negotiations.
Solving cadastral or land book problems
We are committed to setting the clear legal status of the property by taking charge of land survey or land registry issues – sometimes extremely complex – together with our experts. Our lawyers are known for their excellent understanding of the legal and technical concepts of land survey and land registry. Recently, they have made an important contribution to the regulation of the legal status of a real estate property with an estimated value of EUR 30,000,000, managed by a national public institution and to the clarification of the legal status  and registration  of a real
estate property with an estimated  value of EUR 8,000,000, co-owned by non-residents.
Achievements: litigation and real estate development contract consulting
Our lawyers have also been successful in the representation of a leading Romanian company in a dispute concerning a real estate property amounting to approximately EUR 6,000,000 and the client's assistance in the subsequent negotiation of the dispute court settlement.
We also assisted a leading firm in the industry to conclude a real estate development contract, which resulted in the construction of a housing complex. We assisted the negotiations and provided legal consultancy for the construction of a building amounting to approximately EUR 13,000,000 and have participated in numerous major real estate acquisitions for our clients.